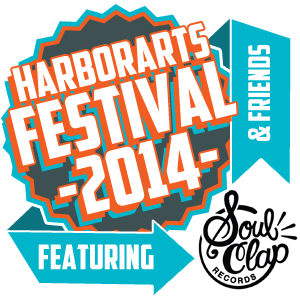 HarborArts Festival 2014

East Your Art Out!
SEPTEMBER 20th, 2014.
HarborArts Shipyard Gallery
Boston Harbor Shipyard & Marina
256 Marginal St. East Boston
Admission - Free (Donations Suggested)
Get Involved! Volunteer!
Presented in association with: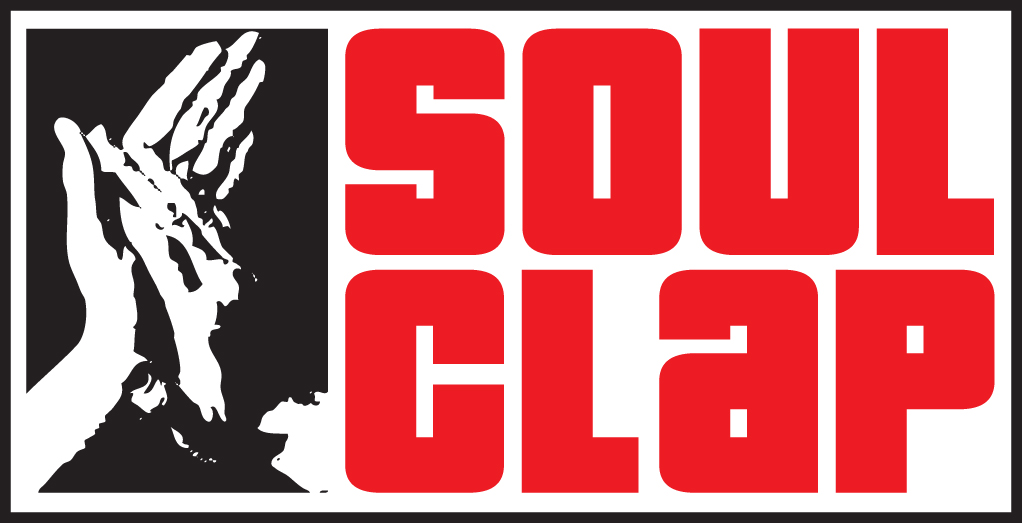 Follow us on
---



OFFICIAL MUSIC SCHEDULE ANNOUNCED!



Music Under the Sun
12 - 12:45...DiverCity

1 - 1:45.......Mass Jammin' Commission
2 - 2:45.......General Motor DJ Set w/ DJ Ryan Brown & Summer Forest
3 - 3:45.......John Hanifin Band
4 - 4:45.......Cloud Factory Band
5 - 5:45.......The Frotations
6 - 6:45.......Tigerman WOAH!
Dancing on the Harbor with Soul Clap & Friends
9-10pm......Randy Deshaies
10-11pm.....Max Pela & CRUZZ
11-12am.....Soul Clap


---
Transportation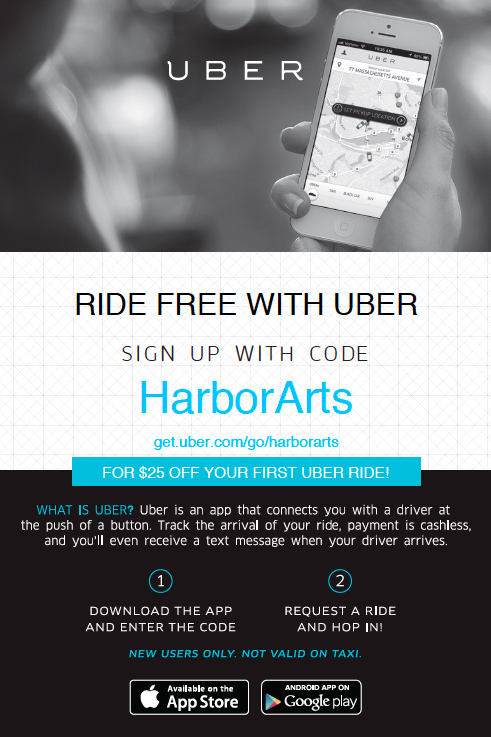 Sign up with UBER today and enter discount code "HarborArts" for a FREE RIDE to HarborArts Festival! On top of that, UBER will donate $5, count em, $5 to HarborArts, for every new user that signs up using our link!

If you don't have Uber, get it! It's an awesome way to get around, and you'll be supporting public art in Boston at the same time! You're free ride is good any time once you sign up, but it makes for a great plan to get to and from the festival safely and reliably!

Click here to download the app and enter the code:
http://get.uber.com/go/harborarts
By boat!:
Take the water taxi and get dropped off right at HarborArts Festival!


By T:
Take the Blue Line to the Maverick Square T-stop and follow the fish to HarborArts! (About a 10 minute walk)
$10 PARKING - PARKING AT HARBORARTS FESTIVAL IS EXTREMELY LIMITED AND CANNOT BE GUARANTEED. PLEASE USE OTHER METHODS OF TRANSPORTATION VIA UBER, WATER TAXI, PUBLIC TRANSPORTATION, ETC.
---
About the Festival
East Your Art Out!

HarborArts Festival 2014 is the fourth annual anniversary celebration of the HarborArts Shipyard Gallery. The tradition continues every September with live music and DJ performances, local artists and artisans exhibiting and selling their work, celebrated local food and beverages, mobile galleries, installations, and much more!

This year's festival will foster an important opportunity to heighten awareness of climate change and issues surrounding sea level rise. We Are Music will bring in prominent thinkers in the climate change movement and experts in climate and sea level rise to conduct a public panel and questionnaire the day of the event. Community members will be invited to participate in the discussion and bring forth questions and concerns. A host of Boston and New England-based environmental groups will also be present on site so attendees can learn about and get involved with the efforts already being made to combat these issues in the area. Our goal is to grow the greater awareness of and local level participation in a global movement to address climate change.

Under the bright sun, Harbor Arts welcomes people of all ages from East Boston and all over the region for activities the whole family can enjoy. As the sun sets, we'll dance the night away under the stars, with sweeping views of the Boston Skyline!

During the day, visitors will be delighted with the sounds of local bands and performers. With an evening hosted by and featuring Boston's DJ and production duo Soul Clap, this is sure to be a night of music not to be missed! Soul Clap will headline the evening and bring some of the top names in music from the Boston area and beyond.

Presented in association with We Are Music and Soul Clap Records.
THE FROTATIONS | CLOUD FACTORY BAND
MASS JAMMIN COMMISSION & MORE
DJ RYAN BROWN AND GENERAL MOTOR SPINNING SETBREAKS FROM 12-7
DANCING ON THE HARBOR W/ SOUL CLAP AND FRIENDS!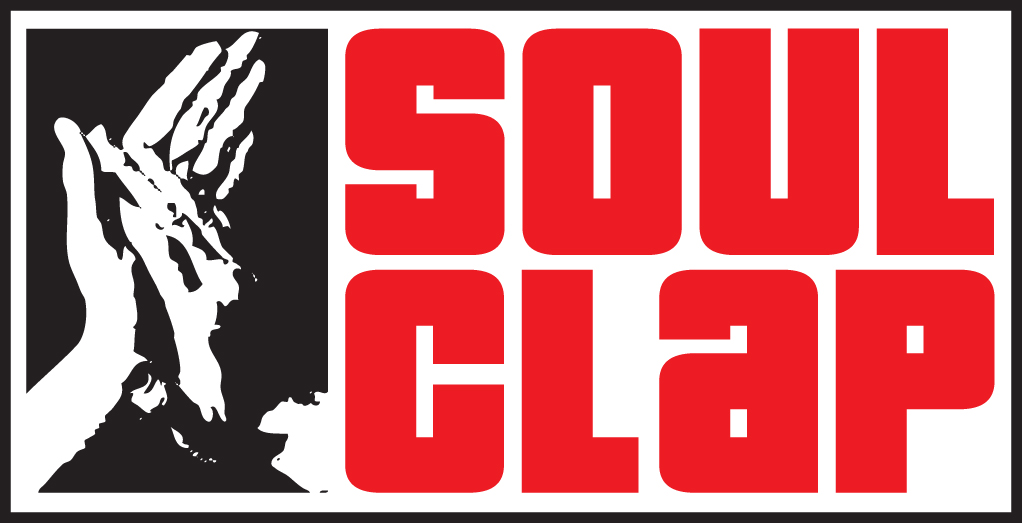 SOUL CLAP | DJ BRUNO | MAX PELA & CRUZZ (UNITY)
STAGE LIGHTING PROVIDED BY SPOT & BEAM LIGHTING
Featuring artworks by:
KC Arts Brokerage, Brian Kane, Michael Alfano, Paul Birnholz
Connected by Sea, by Liz LaManche

Presenting the World's Largest Tattoo!
http://earthsign.com/docktattoo/

---
VENDING OR EXHIBITING

HarborArts Festival is a wonderful occasion for showing and/or selling art pieces, networking, advertising, engaging with the Boston arts community, and having FUN!
This is a great opportunity to showcase your work or your mission to thousands of people!
Artists

Artisans

Art/craft vendors

Arts organizations/collectives

Galleries

Non-profit organizations

Local shops & Boutiques (handmade/original)

more!
Early Bird registration is open thru July 31 at $75, and will remain open thru September 6 at $100. The registration fee reserves your 10x10' space at the festival. You may reserve up to 2 spaces per order. This does not include rental of tents, tables and chairs. Artists can opt to bring their own setup (Tent, tables, chairs), limited to 10x10', and save money on the booth. The low cost of our registration makes vending at HarborArts Festival accessible to a wider range of vendors/exhibitors, emerging artists and students, and allows for a more diverse artist population at the event. Pre-installed Exhibition Stations (each includes 10x10' tent, 2 tables, 4 chairs) can be added to your order for vendor/exhibitors that would prefer to reserve a complete station that will be set up for them when they arrive at the event.
Want to make some cash back from your vendor registration before the event?? Get your friends to sign up with you by joining our affiliate program and receive 10% of the registration price for each vendor you sign up! Anyone can become an affiliate of HarborArts Festival - Help us spread the word!
CLICK HERE TO SIGN UP AS AN AFFILIATE!
---
Volunteer at the Festival!
Please CLICK HERE to sign up to volunteer!

If you'd like to help out at the Festival, we'd love to have you! There are shifts available before, during, and after the event!
Questions? Email us at volunteer.harborarts@gmail.com

---
HarborArts Festival 2014 Partners and Sponsors

STAGE LIGHTING PROVIDED BY SPOT & BEAM LIGHTING
---
THANK YOU to last year's Partners and Sponsors!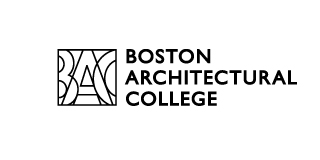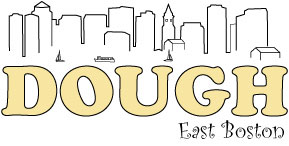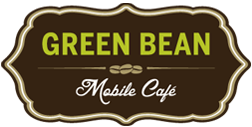 IF YOU ARE INTERESTED IN SPONSORSHIP FOR HARBORARTS FESTIVAL 2014:
Please contact:
Summer Forest Hoeckel
WE ARE MUSIC
summerforest@wearemusic.us
---
IF YOU ARE INTERESTED IN PARTICIPATING AS AN INSTALLATION ARTIST, INTERESTED IN SPONSORSHIP, OR HAVE SOME OTHER CRAZY IDEA, EMAIL US!

Please contact us at connect@harborarts.org